It's a moment we all have to go through. A moment that is profoundly sad. The moment that you realize you've had your last kid. My oldest started kindergarten this week. My youngest started pre-school. My babies are growing up. I cleaned out the garage last week and found a storage bin filled with bibs, tiny shoes and onesies. They had all been worn by my first born and been passed down to his baby brother three years later. I got a lump in my throat knowing as I put them away, they would not be worn by another child of mine. My wife and I have two beautiful children. We will not be having another…and I am soooo, so cool with that.
I'm done. I'm ready to move on. Don't get me wrong. I really loved the baby stage and there are many things I miss and will always miss about it.  I hate that I can no longer carry my 5 year old because he's getting too big. I hate that his cute baby cries have turned into a not so cute whining sound. I hate that my two year old is starting to climb out of his crib on his own and will soon need a bigger bed. But, man, I love the fact that I'm about 6 months away from never having to change another diaper. And that everybody's baby teeth have already painfully popped though their gums. And that when I go to sleep at night I'm not going to be woken up every two hours until dawn. Yes, I grew very melancholy when I packed away the baby clothes, but I would have grown melancholy no matter how many kids I had. There always has to be a last kid. Might as well be now.
I can tell you for a fact that as my wife is reading this blog, she's either welling up with tears or getting really angry. See she wants to leave open the possibility of a third kid (hopefully a daughter). In her head she knows that the family dynamic is perfect now, it's not financially feasible to add another mouth at this point, and that we both have very busy lives and can't handle the commitment it would take to care for another infant. But in her heart she is always hoping I'll change my mind. I knew I was going to stop at two as soon as she sent me a picture of the pregnancy test confirming that another bundle of joy was on the way. By the way she sent that pic to me on my phone just before a callback for a major national commercial. No wonder I didn't book the job. Plus I saw that commercial ad infinitum for about two years afterward. Never really forgave her for that one. Anyway I knew we were done during the her second pregnancy. We already had a three year old boy so obviously we were hoping for a baby girl to get that nice perfect sitcom family. When we were told we were having another boy, we shrugged and said "Oh well. Saves us money on clothes and toys and anxiety during the hormonal, "mother hating" teenage insanity years" Plus not having a daughter saved me the time and money spent on researching chastity belts and convents. At the time though, my wife didn't want to close the door on a third child. I told her, "No, of course not, dear." Meanwhile I had closed, locked, barred, and thrown a heavy bookcase against the door. A few years after the birth of our 2nd little boy, she began to realize that our family unit was perfect. She said, "By not having a daughter, I shall stay the most beautiful woman in the house." That's not an exaggeration by the way. She really said that. In fact she said it while standing in front of a magic mirror and holding a poison apple. But now the queen is beginning to change her tune a little and hinting that she may want a princess after all. Now I reminded her that in 7th grade health class they told us we don't really have a say over if we get a princess or a 3rd prince, but she said it didn't matter. She would be okay with another little boy. I then went on to remind her that raising two boys has so far nearly killed and divorced us (in that order) and it does in fact NOT get easier with a third. In fact a friend of mine said it best. She said raising another child is like adding a full point on the earthquake Richter Scale. Each point up the scale means the earthquake is exponentially worse. Going from 1 to 2 kids is like going from a Richter Scale 5 to a 6. Minimal destruction. Going from a 2nd to a 3rd (and another boy at that), well you're talking a 6 to a 7. Now you're looking at pretty extensive damage and injuries. Plus you should never let your kids outnumber you. Right now my wife and I can play a man to man defense. If we have another one, we'll have to go to the zone and any basketball coach will tell you that's a much tougher coverage. So I hate to tell my wife (and her mother), but I have now added another padlock, a couple of couches and an angry Doberman to that closed door.
I love my two boys. They're my best friends. My 5 year old is watching sports with me and starting to understand satire and sarcasm. I'm starting to have conversations with my 2 year old. I am eager to continue on to the next phases of raising my wonderful family.  I want to look forward and not start over.  So barring any "accidents", I've had my last kid. Oops. Shouldn't have written that last sentence. I'll bet my wife is putting the kids to bed, opening a bottle of wine and slipping into something more comfortable right now.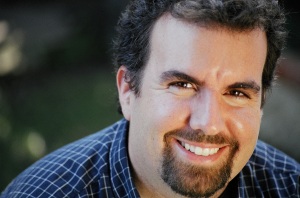 Chris Loprete, aka the father of Our Milk Money, began writing his experiences as a new father upon the launch of Our Milk Money, calling his work, appropriately, The Daddys Den. Chris is no stranger to comedy composition. He wrote and performed his one-man show You're from Philly, Charlie Brown, having successful runs at Circle X Theatre, The Lonny Chapman Repertory Theatre and The Comedy Central Workspace in Hollywood, California as well the Philadelphia Fringe Festival. Chris has performed all over the country in theatrical productions, television and film. He is an alumni of The Circle X Theatre Company and The Groundlings Sunday Company. Currently, he is a writer/producer for the Comedy and Reality Promo Team at ABC Television. Chris lives in Stevenson Ranch, California with his wife Ally, founder of OurMilkMoney.com and his two beautiful sons, Braden and Henry.