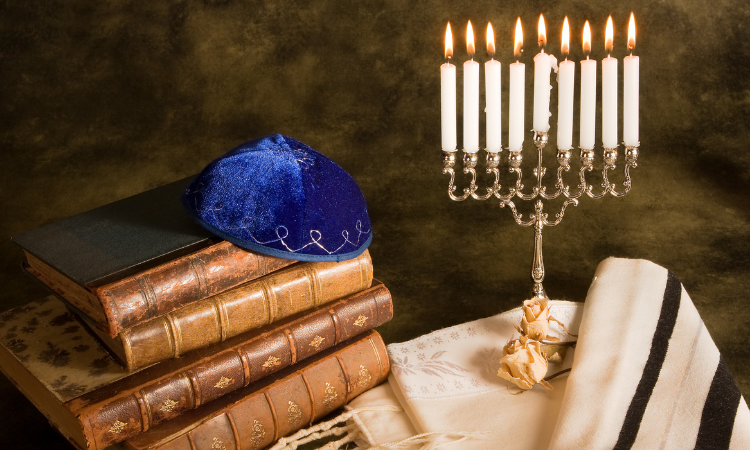 Nearly a year ago I made a new years resolution that I would be more conscious of and limit my need to apologize for everything. Along with this new initiative, came a new desire to embrace myself without vindication for the things that make me who I am.
In my tiresome "need to be liked by everyone and not to make waves where there needn't be any," I admit I had allowed my Jewish heritage to become somewhat invisible through the years. Being Jewish in the current society had just become more trouble than it was worth. I'd married a Catholic man who had always wanted to support my traditions, but even so, celebrating my culture's customs had become such a chore amidst a Christian holiday society. Being non-religious, I didn't really see a need to make it a priority. As far as I was concerned there were more important things to fight for, and quite frankly, I didn't feel like fighting anyway.
So for a while I took the easy way out, jumping into the celebration of Christmas with both feet, dressing the tree, hanging the stockings and telling stories about Santa and his elves. It was so much easier to celebrate without the fear that I would be targeted. I guess you could say I conformed to fit in.
Through the years, I'd think back to Hanukah, spin a driedle or two in remembrance, but the truth is it felt a bit like I was letting a part of myself die a little. It saddened me, but I wasn't sure of what I could do about it. The area we live in is sparsely Jewish and what little Jewish circles there were, I didn't run in.
This year, along with swearing off my addiction to apologize, I realized I no longer wanted to deny my Jewish Heritage. Religious persecution in a less diversified suburb might have led me to choose not to worship at all, but this was no longer about religious beliefs. This was not a choice.  The same way a Chinese or Italian person cannot deny their ancestry, I cannot deny mine, nor would I teach my children to deny theirs.
This year, Hanukah came earlier than Christmas,  a perfect time to celebrate it without the chaos or the competition of Christmas. By gosh, I was going to take advantage! Hanukah is not yet over and already we have had a wonderful time spinning dreidels, making latkas, hiding presents, and telling the story of the Macabes and the miracle of the burning oil. In honor of my reborn heritage, my husband and I brought our boys to the Skirball Center for the Hanukah celebration this year. It was such a wonderful time for all of us!! Full of laughter and celebration.
It felt like home.
We learned such things such as the correct title for what most of us call a Menorah: The Hannukiah. The most wonderful revelation is how many of my non-Jewish friends and neighbors have taken part in helping me celebrate. They have set aside any preconceived notions and have seemed genuinely interested in learning about my heritage and all of its traditions.
What a glorious time all of us have had!
If only I'd realized earlier the importance of pride, I would not have spent all those years being afraid to be my very self, my only self, and all the things that make me exactly who I am. I didn't choose to have frizzy kinky hair and freckles, I did not choose to be born in a free country and I did not choose to be Jewish. But I am grateful that each of those choices were made for me.
New Years Eve is still a month away, but I already know that my resolution this year will be to embrace my birthright and honor myself in love and festivity!