I have to say, the marketing team behind the Lowe's Build and Grow is beyond brilliant.
It's a marketing concept that is guaranteed to bring people in droves to their stores all over the country at least twice a month. For parents like me who are looking for free and inexpensive activities for my 1 and 4 year old, this is something you can't beat it.
It's free free free, did I mention free?
But back to why it's so brilliant…when you walk into a Lowe's, whether its for a free event or not, you are most likely going to buy SOMETHING. Lowe's knows that everyone, including YOU, has probably put off the extra trip out to their store to buy a little spare part to cover the sharp edge of the screw sticking out of the table, or gunk in a tube that will repair that dreaded hole in your drywall, or anything else that doesn't justify one trip to the store….unless you are already at the store to take your kids to a fun and free event.
Still, its a small price to pay for a few hours of fun and a finished project our little growing builders can feel proud of.
How does it work? Visit www.lowesbuildandgrow.com to get your little builder registered- although if you forget to register, and they aren't overcrowded, you can do it once you get there. Your little builder will get a starter kit, complete with an adorable builder's apron, protective goggles and a hammer. In addition, you'll receive all the materials you need to assist your little builder in building themselves a workable toy.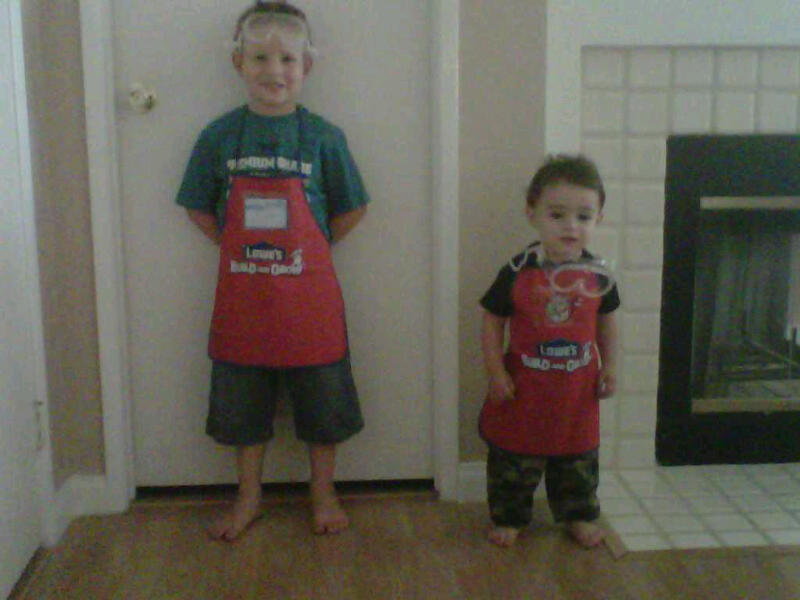 Together we've built tic tac toe game boards, mini baseball stadiums and basketball hoops, robot transforming race cars, and a pocket change bank.
On Sept 25, 10am, Lowes will be celebrating "Safety Saturday", a nationwide campaign to educate parents and children on the importance of child safety. Every Lowes across the country and Canada will be participating in the event. The build and grow project?  A red fire truck complete with a working siren. We had a ball building ours this afternoon- and look, its even safe for a 16 month old!