Written By Chris Loprete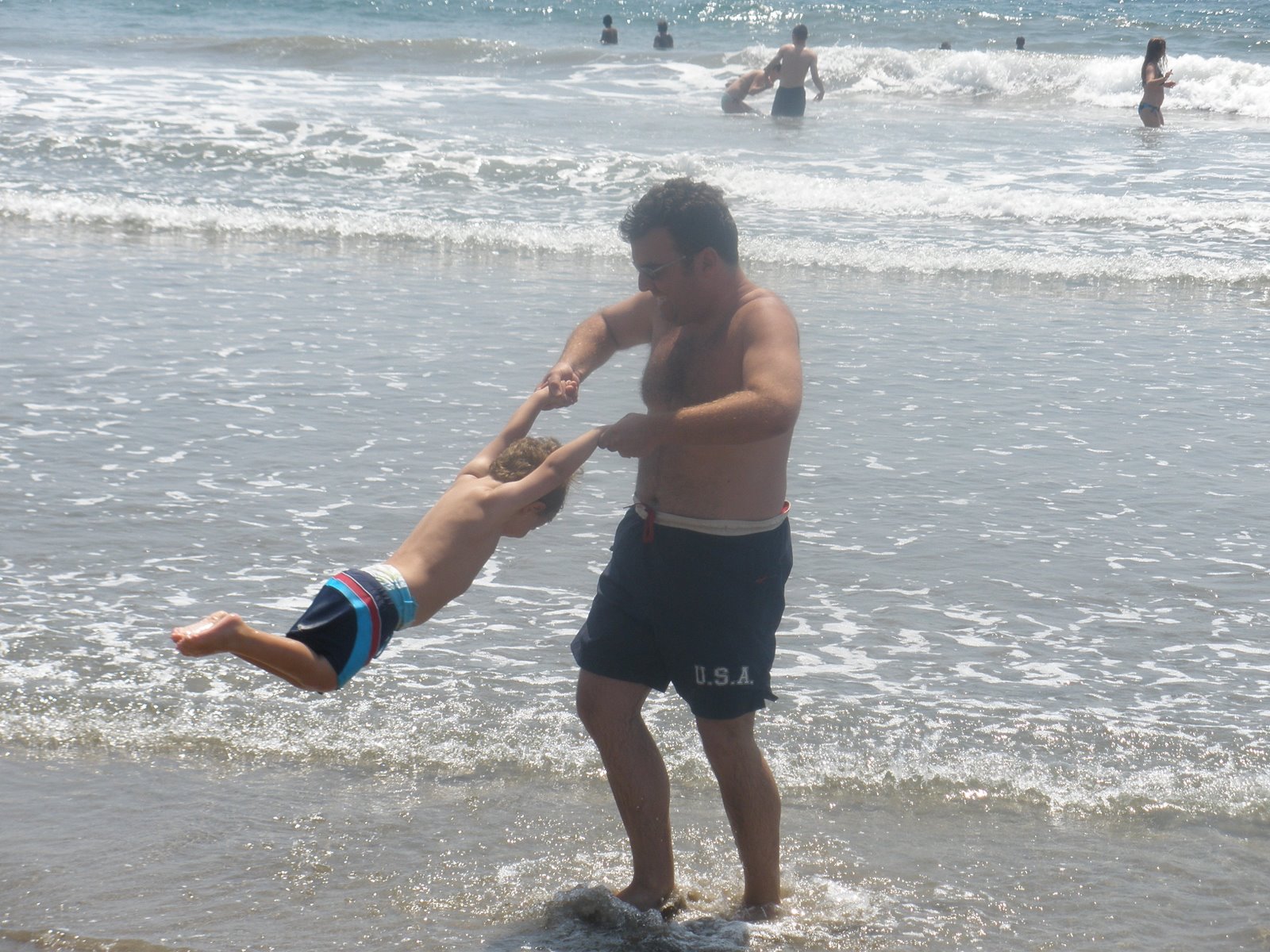 It's true what they say. Once you become a father, you start to live your life all over again. My son is 2 ½ and I'm finally getting it through my thick skull that while I have said goodbye to many aspects of my younger self (i.e. sleeping in on weekends, peaceful mornings and quiet nights at home, 2 AM drunken breakfasts at all night diners), I have just begun to experience an entirely new quality of life. The life of a father, nurturer, protector, teacher and dare I say, hero. While it is absolutely one of the hardest roles I'll ever take on, the perks of daddy-hood are irresistible. For instance: nobody has ever been so happy to see me when I come home from work. Every day without fail! Only a dog shows that kind of loyalty and they emit a loud bark rather than an adorable, "Hi daddy!" And I challenge your heart not to melt when your son or daughter lays their head on your shoulder as you gently rock them to sleep.
Something that I didn't expect was the flood of forgotten or suppressed memories from my own childhood that would begin to resurface. I've always prided myself on having an incredible memory. I can rattle off dates, places, historical and personal events at a clip. And don't even get me started on movie and TV dialogue. I tend to give the impression that all I did as a child was sit inside all day and memorize cartoons and sitcoms. That's NOT tr…well okay that's mostly true, but it also has to do with the fact that I have a memory like a steel trap. I thought the extent of my memory only reached back to my 4th or 5th year however. So I've been surprised recently because ever since the birth of my son, memories of my toddler years which had been tucked away for one reason or another have been popping up without even trying to recall them. The memories are so vivid it's as if they happened yesterday. When his cries split the night at 3:00 AM, I no longer curse under my breath while stumbling into his room to calm him down. This is because I recently remembered a particularly terrifying recurring nightmare that I had as a baby. While I don't remember the details of the dream, I do remember jolting awake while screaming at the top of my lungs and looking towards my bedroom door through the bars of my crib just waiting for it to open and my parents to come to my rescue. I also remember a particular bully from when I was 3. Who bullies a kid when he's only 3?! Anyway I think I remember him because of his name: Keith Newton Shot. Isn't that the greatest name ever? Sounds like an assassin. "The Prime Minister's life was tragically taken by Keith Newton Shot" Then the local news would interview me and I'd say, 'It doesn't surprise me. He used to push me off of my Big Wheel when I was 3." But the point of this memory is whenever I see someone pushing my 2 year old around I have to restrain myself from shaking the kid while yelling," I WILL NOT LET YOU BE HIS KETH NEWTON SHOT!" But I digress. Another wonderful memory hit me recently and inspired this month's blog.
Last weekend I spent a lovely weekend at the beach with my family. I'm a HUGE fan of the beach. I tend to pine for days gone by. It drives my wife crazy. The summers are a particularly nostalgic time for me. Growing up I was lucky enough to spend 3 weeks every summer at the beach or "down the shore" as we say back East. 3 WEEKS! 2 weeks mid summer were spent at a rented house at the Outer Banks of North Carolina (the greatest destination…EVER! Don't argue with me.) and 10 days at the end of August were spent at Ocean City, New Jersey. I looked forward to those weeks all year long. Every morning I would hit the beach with a ravenous appetite and stay there until sundown, alternating between boogey boarding in the waves and sitting in my beach chair listening to music or enjoying a good book. My family soon bestowed upon me the title of "Beach King". Then at night the entire family would have a huge dinner and play games or head to the O.C. boardwalk and go on the amusement park rides, play mini-golf, eat Mack and Manco's pizza (best pizza anywhere! Don't argue with me.) And eat caramel popcorn or salt water taffy. It's the kind of stuff that Bruce Springsteen songs are made of. They were the happiest days of my life. And not only did we kids enjoy those vacations, but the adults seemed to be having the time of their life too. Now that I'm a little wiser I realize that they were all completely drunk much of the time. We kids had no idea. We just thought that they were having a REALLY good time playing Charades with us.
Anyway ever since I became a father, my dream has always been to someday recreate those memories with my kids. Last weekend was my first taste of it. My in-laws own a lovely condo at the beach about an hour from our house. They have been generous enough to share it with us for which, believe me, I am eternally grateful. Last year my son was 1 year old and to him the beach was a brand new and wonderful world. He was terrified of the ocean though. You would be too if the only body of water you'd seen was a bathtub and a pool. This was water that actually crashed down and moved towards you! This year however he grew a little bolder. He would take my hand and actually lead me into the ocean and say, "I need up" which meant he wanted me to pick him up and carry him out to sea. While I was slowly wading out to just in front of the breakers feeling my son clinging to me in excitement with a touch of nervousness, I was blindsided by another memory. I remembered that I wasn't born the "Beach King". I had to earn it. When I was my son's age, I HATED the beach. I used to stand at the top of the dunes and scream my lungs out because I wanted nothing to do with this hot and oddly textured ground and the roaring water beyond it. Then one day my father picked me up and carried me into the ocean gently telling me that he wouldn't let anything happen to me and that frolicking in the waves could actually be quite fun. I remember how incredibly safe I felt in his arms and the complete trust I put in him. I survived my first foray into the Atlantic and an obsession was born. I saw that same trust in my son's face along with that same look of cautious excitement as he truly experienced the ocean for the first time in his life. It was amazing. It felt like somebody hit rewind on my life but this time in a weird "Freaky Friday" experiment, the son had now become the father. I've begun to relive my life through my son. It made me realize that it was time to let go of the summers of my past and prepare myself for the summers ahead. We've conquered his fear of the waves. Can drunken Charades be that far away?
This all being said, is it too much to ask for the little guy to learn how to swim so I can relax in my beach chair and read a good book?!