Quite the entrepreneur, Kara Anderson founded Maids on the Run as well as several other businesses that have stayed successful for decades. The following is the spotlight interview that was originally posted in January of 2013.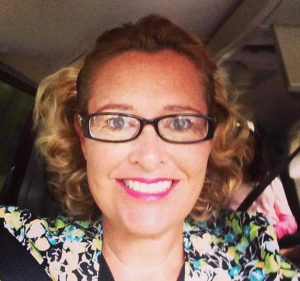 1. Business name, description and what makes it special
I do so many things and that is the mind of a self employed person. I started Maids on the Run after I lost my job to just put food on the table and now  we have 14 other cleaners that work with me and do about 100-125 homes a week, I invented The Bag Holder when I was a personal chef to make freezer meals easily with no mess and I wrote Santa's Secret Elf while dealing with breast cancer. As my 5 year old sat on Santa's lap all he asked for was to make his Mommy better. The next night I woke and wrote the story of Merryam and how she helps Santa with all those requests asking for things he can't make.
2. Tell us about how you got your first customer. 
Maids on the Run was easy to market. I offered free bathroom cleanings to everyone on my email list and if they loved us get rid of their housekeeper and keep me and if they didn't just enjoy a clean bathroom. I got 4 new clients the first week in late 2008. The other product based things I do are not so much. People listen to other peoples opinions so trying to get someone to love The Bag Holder and the book and then share it is difficult. I need a group of friends to spread the word for me since that is on a tight budget. I can see how great it is and of course your first reply Yeah Yeah, everyone trying to sell somethings says that…LOL… but it really is 🙂
3. How do you measure success?
By how many people I make happy each week and how many activities I am able to enjoy with my family with out getting calls from the office. I f I don't get calls that means all is going well and that we planned the week perfectly for staff and clients and fans.
4. Ever felt like throwing in the towel?
NO way! I had cancer at 39 so dying would have been me throwing in the towel. I have been blessed to be here so I better make the most of it and do as much as I can while I can.
5. One thing I wish I would have known…
I would love to have known more about connecting with others to grow and not just rely on myself and my research.
6. Moving forward…
I hope to have build a brand with Merryam and big things to come for families and to franchise Maids on the Run, we are ready just timing and The Bag Holder we still hope it will be a household kitchen item. We all store leftovers and this is time saving and less mess making.
7. The absolute best part of being self-employed is…
My schedule allows me to be available for all the activities my children have and knowing that something I created is making a difference in the lives of many.
8. The absolute best part of being a parent is… 
Being the one person that shows my children that if you think you can do it. Never be the one to say I wish I could…. I will  and I do.
9. I never imagined…
Getting cancer would give me the confidence to do all that I wanted not just dream about it. I believe God gives us a wake up cal now and then and we better make the most of it. I live life with sense of urgency and this is what I would like to share. Courage, confidence and commitment are the only three things you need to know. Courage to actually take the leap and follow through with the ideas you have, confidence that it will be successful and that you will make it happen, commitment that even on bad days you remember than any day that you are your own boss is better than the best day of being someone else's employee. They are the Three C's to Success in my book.

You can find Santa's Secret Elf, Bag Holder and Maids on the Run on Facebook.