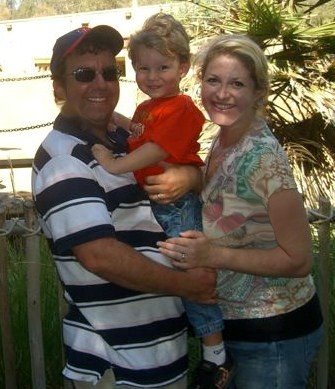 Written By Ally Loprete

Here's to the Fathers who have been there for the good and the bad.
To the Father who wasn't sure that he even wanted to become a father, but when he did, embraced it in a way that surprised everyone including himself.
To the Father who gets up early to go to work every day to a job that he may not like, working for people he may not like, battling traffic to get home to his family in time for dinner, only to have a screaming toddler shoved in his face accompanied with the words, "Here, YOU take him."
To the Father, who despite how exhausted he may be, still finds the energy to read to his kids at night with incredible commitment to voice each character in the book.
To the Father who changes the dirty diaper of a colicky baby at 3 in the morning and still goes to work the next day.
To the Father who builds massive forts with his kids out of couch cushions, throw blankets and boxes- and then cleans it up before mommy goes ballistic.
To the Father who handles his wife's emotions like a champ, and never complains of the mascara stains left on his shirt from the black tears.
To the Father who works overtime so that he can buy a prom dress for his daughter, or a new scooter for his son.
To the Father who takes off work early to watch his son play soccer and score the winning goal, or watch his daughter star in her school play.
To the Father who longs for their children to succeed and nods proudly when they do the right thing.
To the Father who gives up watching the world series to help his son or daughter study for a test.
To the Father who supports his wife when she decides she wants to stay home with the kids, even though it means losing half of the family income.
To the Father who boldly defends his home in the face of danger and arms himself with a Fungo baseball bat when "strange noises" are coming from downstairs.
To the Father who stays in his 3 year old's room and waits until he falls asleep because he's afraid of the dark – every night.
To the Father who prepares his children for life's unexpected difficulties by teaching how to change a flat tire, repair a leaky pipe or clean up after an earthquake.
To the Father who teaches his family to laugh at themselves, and keep laughing when life gets complicated.
To the Father who teaches his daughter to ride a bike, and picks her up when she falls down and cries, and holds her for as long as she needs, before getting back up and trying again.
To the Father who surprises his children on Christmas morning by dressing up as Santa Claus and delivering all the toys they asked for personally.
To the Father who carries his son or daughter proudly on his shoulders so that they can have a good view of the parade.
To the Father whose children love him, and only want to grow up to be just like him so that one day they can make him a proud grandfather.
To the Grandfather who has finally earned the right to hold out his beautiful young grandchild to his son or daughter, and say, "Here, change this."
To Fathers everywhere: We know it's not the easiest job in the world, but we know you do it with every ounce of love that you have, and your children are shining examples of what you have given to them. Thank you.