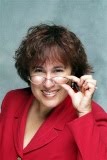 What? You don't remember ever asking yourself this question? Trust me, if you're over the age of five, you have – and the opportunity will present itself again, many times over.
On the first day of preschool or Kindergarten, you scanned your surroundings; the room full of children, the teacher and more friggin' toys than you had ever seen in one place. You wondered, Who am I and where do I fit in? In time you learned, you acclimated and found the part of you that connected with the experience.
Fast forward eight to ten years: adolescence. Changes abound – physical changes, mood shifts and of course, the opposite sex (hmm…why didn't I notice this before, you asked yourself?) This time, you don't quite acclimate, but you move through it and on to more change.
One day you wake up and discover you're no longer a child. You're a man, a woman. You marry or choose to remain single, you work, have children – or not, and your world opens to a whole new set of changes. Life is just that – beginnings and endings, births and deaths, starts and stops – change. It's not change itself that's most significant. How we respond to that change defines our quality of life.
If you're a working parent trying to find your way back home, or if you're a stay-at-home parent who needs an income, expect change that will rock your world. It may not be easy, but your commitment will see you through. Just take it a step at a time. It'll all be worth it.
Are you contemplating a change of lifestyle? Would you like support? Please email me privately at successmadesimple.jc@gmail.com and I'll sign you up for Two Months FREE Membership to my monthly Mama Come Home! teleclasses.
Judith Cassis,C.Ht. is a Personal Development Consultant with 26 years experience. Known as "The Bounce-Back Coach", she works with people who are "bouncing back" from failure, loss or tragedy. Judith is co-owner of a small newspaper,Tidbits of Santa Clarita Valley, www.tidbitsscv.com a family business she and her husband, Lee Cadena run with their sons. Through a monthly teleseries, Mama Come Home, Judith supports mothers in staying home or returning home to raise their children.