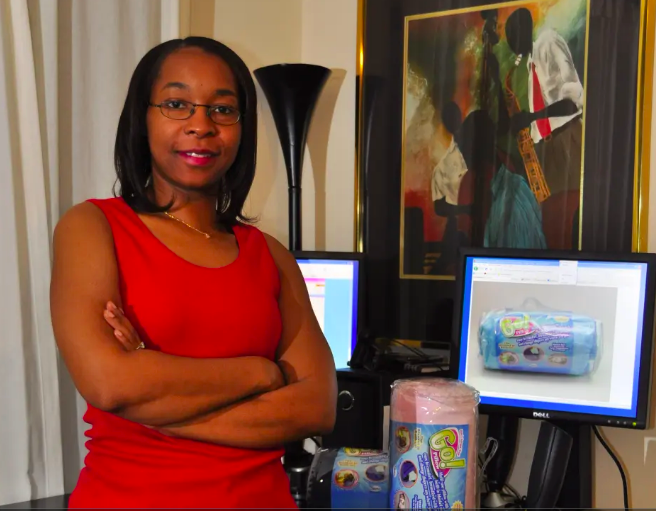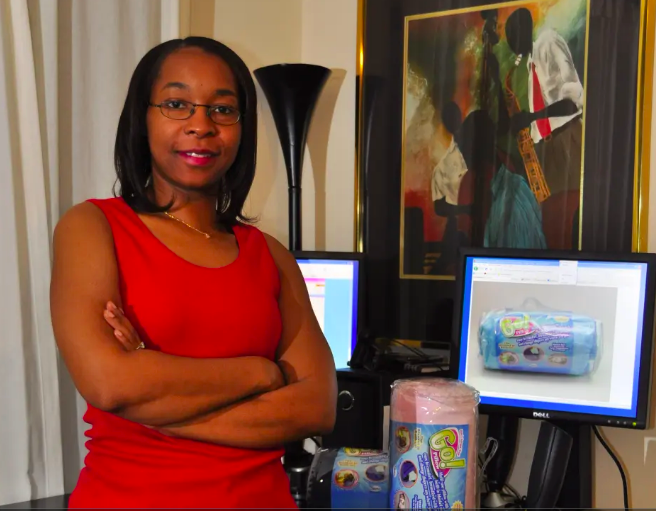 Simply Necessary Incorporated was founded as a family owned business by Tangela, and is now run with the help of her daughter. With it came the unique idea and best selling product The Kushies GoPillow!
Serving a multitude of purposes, the GoPillow is a wearable cradle pillow, a breastfeeding pillow with a built-in cover, a pillow and swaddling wrap, a toddler pillow with an attached travel blanket… and can even become a travel pillow!
Its usefulness and versatility couldn't have been invented by anyone other than a passionate mom. Tangela tells us all about her journey as the owner and creator, and she offers some great advice for any mom who finds themselves on a similar path.

What makes your business special to you?
Simply Necessary, Incorporated is owned by a mother and a daughter.
The Kushies GoPillow is a convenient way to cradle and/or nurse a baby at home or on-the-go. This plush pillow can be worn on the arm to provide extra comfort and cradling support.  It can also be used as a swaddling blanket.  The wearable design provides moms privacy during breastfeeding.  It is lightweight and portable, made of cotton with a polyester fill.  The Kushies GoPillow is machine washable.  The Kushies GoPillow is perfect travel gear for domestic and international family travel.  It's compact enough to fit inside of a carry on bag.  Kushies GoPillow is available in 100% bamboo.

Tell us about the "aha" moment that led you to launch it:
After my daughter was born, I breastfed her for two years. I had the idea for the GoPillow because she was born with a head full of black, silky hair. Each time I would breastfeed her, the back of her neck along her hairline would perspire and my arm would be damp. I decided that I needed an arm cover of some kind – not just for breastfeeding, but for cradling my baby.
The original intent of the pillow was for cradling babies for breast or bottle feedings. I also knew it would be an excellent travel pillow. The idea for adding the privacy blanket came later. It was added after I was caught in a crowded area during a rainstorm at Disney World in Orlando, Florida. I realized that a privacy blanket or cover would separate my pillow from any other nursing pillow on the market. The blanket turned the pillow into a multipurpose wonder!

How did you get your first customer?
My first customers were two postal workers. They helped me select the best packaging for mailing out GoPillows to customers. Once they saw the product they each purchased one for loved ones.

How do you measure your success?
After struggling to gain exposure for my invention for several years, I was able to license my invention to Kushies Baby. I summoned all of my knowledge and expertise as an effective communicator. I sought the right company to work with me. After scouring the world-wide web day after day, my mom-invented product went from being a local novelty to being available worldwide thanks to a licensing deal that I made with Kushies Baby!

Ever felt like throwing in the towel?
I felt like throwing in the towel on a regular basis. But I didn't want to disappoint the people who believed in me. I also didn't want to disappoint myself.

One thing you wish you would have known before you started:
I wish I hand known more about how public relations and marketing worked. I had to learn on the job. I've learned many lessons.
Best advice you have for someone who is just starting out:
Anyone just starting out should make a decision about how they want their business or product to be represented. They should identify a target audience and focus their marketing to that audience. Successful entrepreneurs should know who their competition is and be able to differentiate themselves from competitors. All entrepreneurs should develop an "elevator pitch" that can be delivered during brief encounters.

What is the best advice you received?
Know when to unplug.  Always make time for yourself and those you love.